Street Feast Calls on Neighbours to get Together...
64% of people wouldn't welcome a new neighbour to the area Thursday 2nd May: Today launches the 3rd annual Street Feast at a rooftop lunch at Dublin's Urban Farm. Street Feast, in partnership with Centra, are calling on people nationwide to come together at 12noon on Sunday, 23rd June to enjoy a bite to eat with their neighbours for a simple and fun way of reconnecting with those that live near...
6 tags
No such thing as a free lunch!
Well perhaps there is - with community grants. Have you enquired whether funding is available for a Street Feast or another project in your county? County & City councils usually have an allocation of funding to distribute for community and environmental initiatives. These deadlines are fast approaching. For an example, here's Kilkenny County Council's funding info page - Their...
6 tags
We're giving a workshop - tonight!
Samuel Bishop, co-founder and coordinator of Street Feast, will be giving a talk on the multitude of creative and inspiring social food initiatives that are taking off across the globe. He'll also introduce Street Feast, and give a quick workshop on 'How to host a Street Feast.' "We started it because we wanted to see more life on the streets, find more friends closer to home, and kickstart a...
6 tags
2 months to go!
Street Feast is on Sunday 23rd June. It's time to get planning your feast! Check out our downloadable guide on www.streetfeast.ie for great suggestions and tips.
7 tags
6 tags
How about a Talent Feast?
How cute is this?! Here's an invitation to a Street Feast Talent Show that Louise Williams in Harold's Cross recieved in her letterbox from her 10 year old neighbour Lauran. It's great to see the young people getting excited and planning their own feast! The kids in Harold's Cross Cottages in Dublin 8 are already planning their 3rd annual Street Feast for the 23rd...
Celebrating Street Feast & Hack the City
It's time to feast again! To mark the end of summer, and the close of the Hack the City exhibition, Street Feast and the Science Gallery are whipping up a Closing lunch time Feast on September 7th. Join HACK THE CITY participants and members of Dublin City Council, Totally Dublin, Google, Science Gallery and more as we sit down for an open-air potluck lunch, complete with curated...
Competitions & Science Gallery
It's been over a month since Street Feast took to the streets across Ireland with music, tasty food and colourful bunting. It was a beautiful day of community celebration right across the country. Over the last month we have loved hearing stories, tales and photos from the day come in to us. The street feast team took a bit of a break afterwards, and are now back in action gathering some...
Thank you!
You came out in droves. With bunting and cake and stories and games and gazebos and yurts and tea and guitars and songs and chairs and cheese and so many good things. The sun even came out too…  We are still soaking it all in and gathering the images and tales from the day. If you have photos or video to share please send them in to hello@streetfeast.ie . We have a prize of a meal for two...
8 tags
Feasting on Fade Street kickstarted a weekend of...
Dublin's newly renovated street, Fade Street, opened on Saturday with a colourful Street Feast at an exciting all-day bicycle festival, 'Yestival'. Banquet tables replaced cars, as people thronged to share food and celebrate community under colourful bunting and surrounded by bikes.  Food was brought to the table by guests in a pot-luck style feast and pizza & salads generously donated by a...
Bring out the bunting, let the feasting commence
The day will soon be here. We've been plotting and planning for months now hoping to spread the street feasting word.  This weekend there will be bunting galore, table spreads, chairs arranged, food shared and importantly neighbours chatting and connecting. Our hope is that strangers will become friends and new links sparked. It is such a simple thing- to share food, to chat, to connect, to...
9 tags
Healthy Local Communities
We are passionate about promoting the importance of healthy food in community and highlighting how positive local business can help build healthy communities. What better way to explore that further with a short post from Stephen Flynn of The Happy Pear, the natural food market in Greystones? By Stephen Flynn of the Happy Pear Street Feast is a wonderful opportunity and initiative to...
10 tags
Tasty Street Feast Prizes
Make sure to register your Street Feast! €100 GoCar voucher for every registration of a Street Feast. The wonderful team at GoCar want to support and encourage Street Feasts to take place around the country, and to play their part, they are giving away 4x€25 vouchers for their new car-sharing service. (Think 'Dublin Bikes' but for cars).  Enter the draw for a wonderful Irish Food...
5 tags
TeaTime: Science Gallery meets Street Feast
We'd love you to come meet us! Street Feast is coming to the Science Gallery for some tea and chats.  As part of the Science Gallery's Hack the City programme, the Street Feast team will be collaborating on a number of events and exciting opportunities. First off is a series of chats which we will be hosting this weekend and early next week, to which you are all invited.  The events...
3 tags
Public space and Street Feasting...
Last year we launched Street Feast on Millennium Bridge, across the Liffey. On  the day, the architect of the bridge, Sean Harrington, popped by to see what we were up to. We stuck up a conversation and a few more since, on creative ideas for the use our of public space. Sean kindly sent on some words on that very topic today…  Public Space and Street Feast As a...
Blooming...
 We had such a lovely time at Bloom in the Phoenix Park. We had literally hundreds of conversations about street feasting, community building, bunting, food and fun. We are hoping that it all leads to lots more Street Feasts on June 17th.  Huge thanks to all our volunteers and supporters who lent a helping hand over the weekend. Thanks to the sunshine too, who made a very welcome visit...
10 tags
Watch
Two weeks to go! We're so excited to share this lovely, simple video inviting you to host a Street Feast in your community. We think it really captures the buzz, tastes, colour and connections that Street Feast is trying to inspire in communities across Ireland. It was shot at our Street Feast launch on the Millenium Bridge over the Liffey in central Dublin last year. Enjoy! ...
6 tags
Blooming...
           Street Feast is heading off to Bloom in the Phoenix Park this weekend. If you are heading there too, do come and say hello. We are delighted to have a chance to set up a space in the GIY section. Watch out for some festive bunting, a cheery table and some of our friendly volunteers. We'll be happy to have a chat with you about kicking off a Street Feast in your neighbourhood on June...
4 tags
A few words from Darina...
Darina Allen, Ireland's most famous cook, has been at the helm of Slow Food Ireland since they first joined the movement 20 years ago. The Slow Food message is to merge pleasure and responsibility at the table. Darina has also been a long time champion of local and organic food, she runs the acclaimed Ballymaloe cooking school which draws visitors from across the globe to experience a slice of the...
8 tags
Grow it. Cook it. Eat it: GIY meets Street Feast
Street Feast is about the people; we are a movement rather than solely an event. It's about helping people realise how rewarding & fun it is to work with others. As an old African saying goes 'if you want to go fast, go alone, if you want to go far, go with a group'. Street Feast wants to go far. To make our national day the biggest ever, we need people to host the parties, so...
9 tags
A Street Feasting 'Ring'
The children in one area of Harold's Cross are uber-excited about Street Feast and are determined to transform their local 'ring'. Louise Williams, the host of last year's Street Feast(s) explains more…  I think the people who benefitted the most from our 2011 Street Feast are the local kids. They put lots into it, bringing home-baked cakes and getting games...
9 tags
5 tags
Cake Cafe and Street Feast
The lovely Michelle Darmody is the owner of the equally delightful Cake Cafe, just off Camden Street in Dublin. She is also a fan of Street Feast. Today she shares a few thoughts on how food can help to bring people together as a community. She also shares a yummie recipe for a simple sponge cake- a perfect thing to share with neighbours on June 17th. Thanks Michelle.  …. I love to eat...
9 tags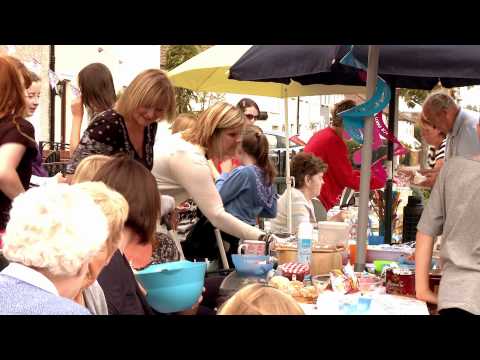 4 tags
Happy hosts...
Look who's hosting Street Feasts on June 17th. Will you?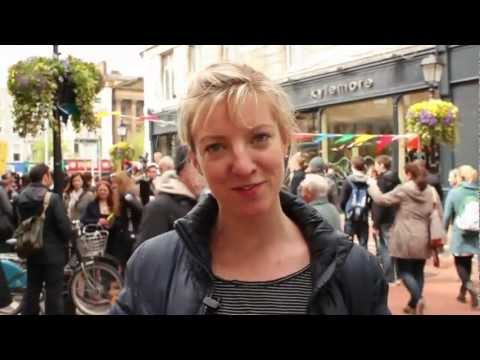 Flash Banquet | Street Feast Launch 2012
So Street Feast 2012 is officially launched! We kicked off with a tasty blast today on North Earl Street in Dublin.  What fun!  On June 17th we want to have the biggest number of street parties all across Ireland. We hope you will join the party! Download your DIY pack for how to run your own here. 
Launch 2012 - Street Feast's Flash Mob Banquet!
ALL WELCOME! Come join us and surprise Dublin with a flash mob banquet in Dublin City Centre! [check out our event on facebook] Street Feast is aiming for the skies to make this year's Annual Street Feast bigger and better. Street Feast now in its third year will launch its nationwide campaign of bringing communities together with a Flash Mob Banquet on Thursday 3rd May at 1pm. We'd love...
And we are off...
The days are lengthening. The sun has been teasing us. The blossom is in full bloom. We've already smelt cut grass… yes, summer is indeed on its way.  Which for us means, Street Feast time! And we are back, with ideas, energy, enthusiasm and a huge desire to bring Street Feast to as many communities around Ireland as possible.  Our big day this year is June 17th.  We...
Street Feast at Electric Picnic
Phew. It has been some week.  Last Sunday thousands of people took to the streets for their own Street Feast.  There were Street Feast all across the country and the photo and video that is coming in makes us smile, very broadly.  Now we want to keep the momentum going. So this weekend we are packing our bags and heading to Electric Picnic.  We have teamed with with some other lovely folk from...
Tomorrow, Tomorrow....
Tomorrow our big Street Feast day will finally be here. The bunting is already going up, cakes are being baked, and parties are being plotted right across the country. As word gets back to us about preparations, we can only but smile. We've heard of all sorts of acts of generosity, resourcefulness and creativity from villages to cities all over Ireland: businesses offering food; kids cooking...
Coming to an exciting location near you...
Two days to go.   We are so very excited.   So, this Sunday, Street Feasts will be coming to …   A street An apartment block A car park A cul-de-sac A village green A derelict playground A park An archway A flea market A canal bank A community garden A a front lawn And a picnic blanket     There has been a wonderful response, and registrations are still coming in.   Check out the map for...
Community Resilience and Street Feast
Peter O'Brien from Dublin 6 shares his thoughts about the benefits of building stronger communities by holding a street feast. 
Street Feast, Apartment style.
Street Feast can happen in apartment complexes too! With the full support of the Bellevue management company, Bryan Patten, shares how he hopes many of his neighbours will join him next Sunday, 28th August. Things are looking hopeful for it. Thirty people turned up to an initial planning meeting last night in support of the idea. Now all he needs is the weather to behave.
An architect's view.
Last week we met up with Sean Harrington, architect of the Millennium Bridge. Here he shares a little of our surprise first encounter and goes on to speak about the role of public space in helping to shape and celebrate community. Thanks Sean!
How easy is it to organise a Street Feast?
With over a week to go until the big Street Feast day on 28th August there is still time to get your neighbours on board and rustle up your own feast. Speaking at last year's feast in Newtownmountkennedy, here Craig and Annick Bishop tell us about how they helped to make it happen, all in less than 48 hours. So this weekend, why not knock on a few doors and see if you too can take to the...
Cornucopia takes to the Streets...
Feasting at Harold's Cross.
As more Street Feast registrations come in, we popped down to meet Louise Williams who is helping to organise a Street Feast in Harold's Cross. Undaunted by unpredictable weather prospects, watch as Louise shows us the location of the feast and tells us a little of the process to get the party started. She's excited. So are we!  We'd love to hear how other Street Feast preparations...
Cameras, Action....
Street Feast plans are shaping up all around the country. So far there are feasts registered in Dublin, Kildare, Cork, Mayo, Galway and Wicklow, and there is lots of chatter and banter about more gearing up too.  There are a few taking place in Dublin 8. Below one of the organisers, Clare Mulvany, (who is also involved in the national campaign) talks about how she and her neighbours are organising...
Two week countdown...
The word is spreading about Street Feast and registrations are coming in, which we are delighted about. Sam was on Newstalk the other day and you can listen to his interview with Sile Seoige here in which he explains a little more about the why and how of Street Feast. We know there are lots of people thinking about hosting a feast but who may not have registered it yet. We'd love it if you...
Postering the Streets
It's all about getting the word out there! To help spread the word and inspire people to hold Street Feasts in their local area, we've printed out hundreds of A3 posters to be put up in libraries, cafes and all sorts of places across Ireland.  We still have a bunch of posters sitting in Cork, Galway and Limerick waiting to be put up by willing helpers. Anybody out there fancy...
Feasting in a Flash
Wow! What a day yesterday. We think it is safe to say that our Flash Feast across the Liffey was a wonderfully colourful success. At 12pm the exact location details were announced. At 12.45, with a team of ready volunteers assembled, the bunting went up on Millennium Bridge, trestle tables laid, chairs accumulated and a scrumptious spread for laid out. Over 70 people dined. There was chatter...
Kickstart the Party on 28th August
We just went live with our 2011 Street Feast Video! Please help to spread the word to get more parties happening all across Ireland on 28th August. We'll also be rolling our a Flash Feast tomorrow in Dublin City Centre at 1pm. If you are in the city, do come along for some tasty treats and some banter. Exact location details will be announced via facebook and twitter (@streetfeast). We...
Coming to a secret city centre location....
  The sun is out. Summer is finally here. We think it's time for some feasting! To officially kickstart 2011 Streetfeast we'll be hosting a flash feast this coming Wednesday, 3rd August, 1pm at a secret Dublin city centre location. We'll be announcing the venue on the day via twitter, facebook & our blog (we like to keep a bit of suspense in the air!). So keep an eye our for our...
6 tags
Street Feast is back!
The year has rolled around again and it's about time for another bash!   Last year's Street Feast was a treat, so this year we want to do it all again, and better.   We've set the date: August 28th 2011 - just before children go back to school and a perfect time for harvesting the summer fruits. We'd love it you would join us and help to make sure Street Feast becomes a great national annual...
6 tags